Complete Equine Veterinary Services
Dr. Harms' Brainerd Equine Veterinary Services offers complete equine veterinary care in Brainerd and in the surrounding region of Minnesota. With a fully equipped mobile clinic and a spacious, complete stationary clinic, we can offer you the finest veterinary care for your horses at your location or ours.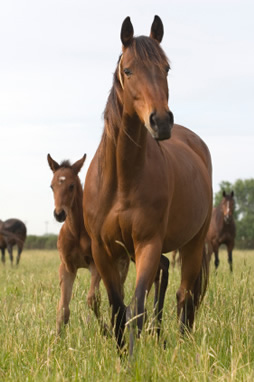 Our services include:
Preventive Care – From regular vaccinations to worming, we know that preventive care is crucial to preventing health problems from developing.
Reproductive Care – If breeding is in your plans, we can help with everything from artificial insemination and pregnancy testing to foaling.
Lameness Diagnosis & Treatment – Diagnosing and treating lameness quickly and properly is a critical issue for horse owners. We're ready to help, at your location or at our clinic.
Surgery – When needed, surgery can be a life-saving necessity. With the exception of colic surgery, which we refer to the U. of Minnesota, we can handle all equine surgical needs.
Wound Treatment – If your horse is injured, we'll treat those wounds promptly and effectively to prevent further damage.
Ultrasound – At our permanent clinic and from our mobile clinic, this powerful diagnostic tool helps us diagnose your horse's problem.
X-Ray – Both our mobile clinic and permanent clinic are fully equipped for X-ray diagnostic procedures.
Dentistry – We offer dental treatment of all kinds, both at your farm and at the clinic. Power floating is available at our permanent clinic.
Medical Treatment – A full range of pharmaceutical products and other supplies is always available at your location or our clinic.
Laboratory Services – All necessary laboratory services are available, including Coggins testing required for travel and horse shows.
Soundness Evaluations – If you're considering a horse purchase, we can examine the animal for soundness and advise you confidentially on your purchase.
Limited Beef Cattle Services – As a courtesy to our clients, we perform pregnancy testing, vaccinations, and TB testing on beef cattle.
Whatever your equine veterinary needs, Dr. Harms has the knowledge, expertise, and experience to handle them. His long experience as an equine veterinary specialist assures you that your horse is in good hands. Contact Brainerd Equine Veterinary Services to discuss any health issues as soon as they appear. We want to establish a relationship between you, your animals and our practice.