Equine Preventive Care Services
Horses, like humans, are susceptible to numerous illnesses. Preventing illness should be a high priority for every horse owner. Dr. Harms will work with you to establish a preventive care plan to keep your horses healthy through the years. This plan will take into consideration where you keep your horse, how you use it, and other factors unique to your situation.
Immunization and Vaccines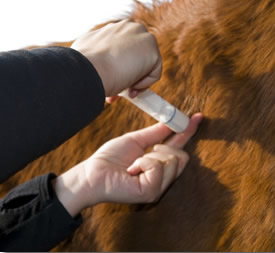 Regular immunizations are needed to protect them. Dr. Harms can advise you on the immunizations your horse needs on a regular schedule. Typically, the following vaccinations are recommended each spring:
Flu/Rhino – This vaccine protects against several strains of influenza and rhinopneumonitis EHV-4.
WN/EWT – This combination vaccine protects against West Nile virus, Eastern and Western Encephalomyelitis, and Tetanus.
Strangles/Strep – This vaccine protects against Strangles, a serious bacterial disease of the upper respiratory tract in horses.
Rabies – Horses, like all mammals, are susceptible to rabies infections. This vaccine protects your valuable horses against the disease.
Lyme Disease – Carried by ticks, this disease is prevalent in Minnesota. Ask Dr. Harms about vaccinating against Lyme Disease.
Regular Examinations
Regular physical examinations of your horse or horses shouldn't be ignored. As an owner, you see the horse frequently, and may not notice slowly developing problems. Just as you get an annual physical, your horses need physical exams on a regular basis. Ask Dr. Harms for his recommendations for your horse or horses.
Worming
Dr. Harms recommends worming your horses every three months to protect them from these parasites. Ask him to set up a regular worming schedule to suit your particular situation.
Health Certificates and Coggins Testing
If you and your horse travel to shows or out-of-state, you may need a Health Certificate and Coggins Test results to comply with show rules and state regulations. Contact Dr. Harms well in advance of your travel times to arrange these services.
Pre-Purchase Evaluations
If you're considering a horse for purchase, schedule an evaluation by Dr. Harms before you make your decision. Dr. Harms will examine the horse and advise you confidentially about the horse's health and soundness.
Regular preventive care is a high priority. Dr. Harms considers it to be part of the relationship between you, your animals, and your Veterinarian. It's the best way to assure yourself that you're doing everything possible to keep your horses healthy, fit, and happy. Ask Dr. Harms about setting up a regular preventive medicine schedule that fits your situation.